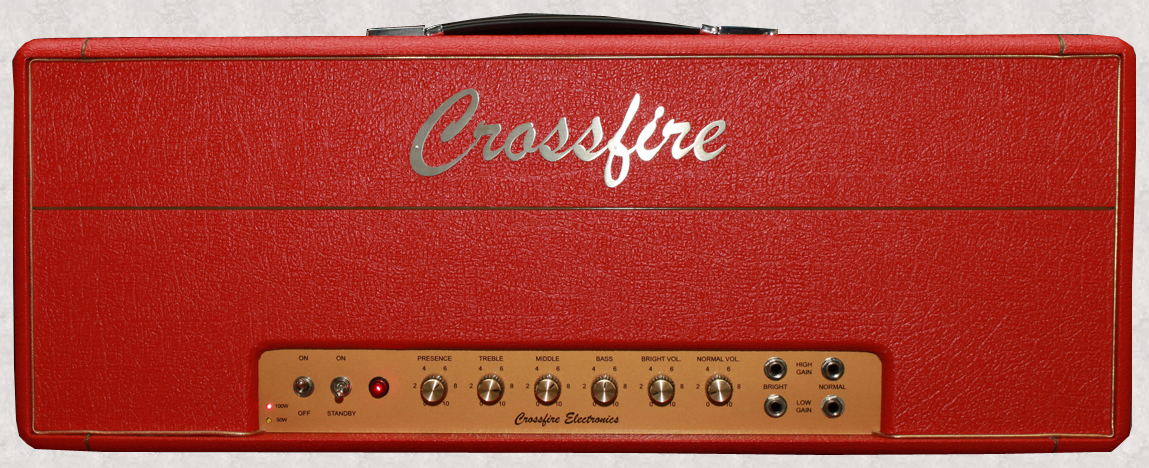 Boutique and Custom Amplifier Design and Build.

Repair and restoration of Vintage Guitar Amplifiers.

Solid state amplifier repair.

Modifications to existing amplifiers.

Kit builder support. Weber kit repairs and support.

Parts. Need a Vacuum tube, a fuse or resistor? I have it.
Crossfire Electronics is a Sherman Texas based Vacuum Tube Custom Guitar Amplifier manufacturer. We create custom designed, hand made amplifiers for that unbelievable fat sound of Blues and Rock and Roll. We work with artists to design custom high quality amplifiers for their needs. A Crossfire Guitar Amplifier is superior to any off the shelf amp because the highest quality components are used and the designs are superior. All Crossfire Guitar Amplifiers are hand built using point to point wiring and custom printed circuit boards, not manufactured on an assembly line. Commercial manufacturers use the cheapest components in order to maximize profits. We select the best components and optimize the design for sound quality (See design tenets, left). A custom built amplifier, that has truly remarkable sound quality and commercial appeal, becomes a standard model like the CT-1992 pictured above, the British Classic 15 Head, or the newly introduced Dumble ODS Clone. Amplfiers are developed as may be requested by customers or as standard offerings. Give me a call, listen for yourself!
If you have any repair needs I am also eager to help. It helps keep the doors open and your business is appreciated.